How do I complete my course?
Click Buy Now & Complete the Purchase of the Course.
You'll INSTANTLY be Emailed your Username & Password & be Able to Access the Course.
Login to Our Learning Portal & Carry Out the Course IN your Own Time.
Course Info
This course is aimed at anyone who uses abrasive wheels or employs people who use abrasive wheels as part of their work.
There are a wide range of tools and processes that use abrasive wheels and ensuring these are used correctly and safely is of paramount importance. Applications range from hand grinding to disc cutting. They can be used at all stages of a work process, for making preliminary cuts and scores in materials, or for fine polishing and finishing.
Different wheels will have different properties and characteristics suitable for particular tasks. They also have different weaknesses and can pose different risks and hazards in handling and use. For this reason, it's important that you always select the right abrasive wheel for the job and use it with the right machinery.
This course covers the anatomy of an abrasive wheel, the dangers associated with their use, storage and handling and much more.
CPD Units – 3
abrasive wheel modules
Pass Mark Required = 70%
Introducing Abrasive Wheels
The Anatomy of an Abrasive Wheel
The Dangers of Abrasive Wheels
Abrasive Wheel Safety
Safe Speeds
Other Wheel Markings
Storage and Handling
Checking and Testing
Training and Certification
Inspections
Course Summary
ready to get started? Click buy now!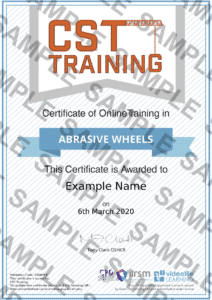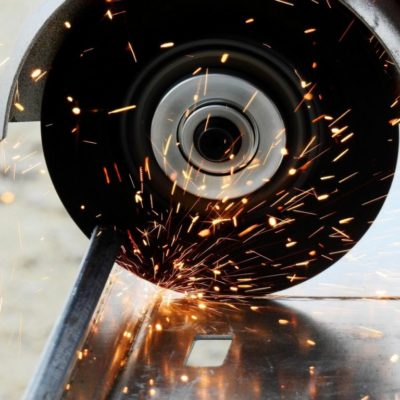 System Requirements
The minimum you need to get started
Browser: Up to date web browser
Video: Up to date video drivers
Memory: 1Gb+ RAM
Download Speed: Broadband (3Mb+)
You can also use your phone or tablet
If you have any questions, no matter how big or small please do not hesitate to get in contact with us.
I had the pleasure of dealing with Cohan at CST Training for arranging NVQ Level 2 Qualifications in Building Treatments and Insulation for our Technical Installation Staff undertaking Floor Insulation and Cold Roof Insulation Installs at Simply Eco Ltd.I found the the process to be smooth and streamlined with excellent remote support during COVID. Our staff found the tutors to be helpful and very knowledgeable and as a business, we would highly recommend Cohan at CST Training Ltd. Genuine 5 Star service and would definitely use them again!Thanks for all your help Cohan.
Completed NVQ level with CST, exceptional help and support from Andy Barker, highly recommended 👍
I did my NVQ Level 6 in Construction Management with CST Training. My experience with them was excellent- fantastic communication, support was offered in every step, fast and hassle free service. Great value for money. I would highly recommend CST Training.