How do I complete my course?
Click Buy Now & Complete the Purchase of the Course.
You'll INSTANTLY be Emailed your Username & Password & be Able to Access the Course.
Login to Our Learning Portal & Carry Out the Course IN your Own Time.
Course Info
Manual handling, or to be accurate, incorrect manual handling, is one of the most common causes of injury at work. To try and combat manual handling problems, the Manual Handling Operations Regulations were introduced.
The Regulations lay out duties for both employees and employers. They give a general requirement that employees must be trained to manually handle correctly including the use of any equipment their employer provides to handle loads safely.
This course outlines exactly what constitutes manual handling and covers the regulations and legislation that apply to manual handling tasks. It then goes on to cover safe handling techniques and how to develop good habits in relation to manual handling. It finishes off by introducing some practical solutions and the use of mechanical aids.
Training your employees with our online system will go a long way to giving them greater awareness of the dangers that poor manual handling poses, as well as covering safe handling techniques, practical solutions to manual handling issues and the use of mechanical aids.
Please note that this is an awareness course only.
CPD Units – 2.
Manual Handling modules
Pass Mark Required = 70%
What is Manual Handling?
Manual Handling Regulations
Safe Handling
Learning Safe Handling Habits
Practical Manual Handling Solutions
Use of Mechanical Aids
ready to get started? Click buy now!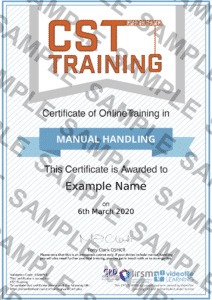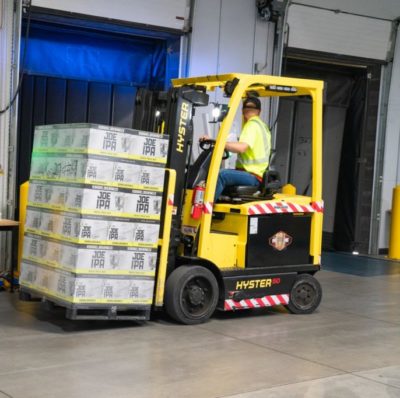 System Requirements
The minimum you need to get started
Browser: Up to date web browser
Video: Up to date video drivers
Memory: 1Gb+ RAM
Download Speed: Broadband (3Mb+)
You can also use your phone or tablet
If you have any questions, no matter how big or small please do not hesitate to get in contact with us.
It's been a pleasure working with Cohan to achieve our NVQ qualifications. He never missed a phone call or email and he also gave his time out with working hours, which was very much appreciated. Advice and guidance was given and the hole process when with ease. I would definitely recommend using Cohan/CST Training. Susan and Jim Shearer
Cohen and David from CST Training are fantastic, providing a great service and support throughout the course. I highly recommend.